Infrared Touch Screen (IR) frame overlays, all large sizes 32″ to 300″ are available from AMS IMPEX, the only touchscreen manufacturer in India
AMS IMPEX, Mumbai manufacturer supplier of IR (infrared) Multi-Touch Touchscreen Overlays, these are external frames for retro-fitting any display, such as ultra-wide monitors, TVs, ultra-large size video walls and even large projected images
IR TOUCH SCREEN FRAME OVERLAY WORKING PRINCIPLE
How do IR touch screens work?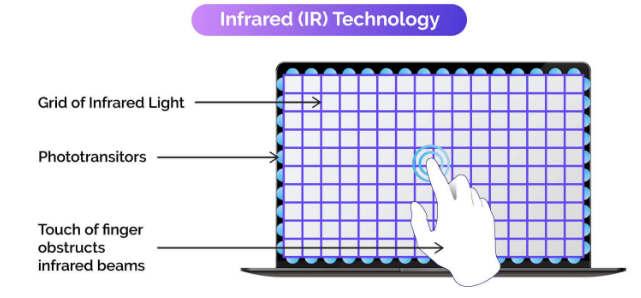 AMS IMPEX IR touch screen overlay frames use an infrared matrix densely distributed in the X and Y directions to detect and locate finger touch points.
When a finger touches the screen, it blocks the horizontal and vertical infrared rays passing through the particular position, so the coordinate position of the touch point on the screen can be judged. Any non-transparent object can change the infrared rays on the finger contact to realize a touch event operation (click, double click, swipe gestures, etc.).
| | |
| --- | --- |
| Read More | Paths |
| PCAP Touch Screen | Click Here |
| 5-Wire Resistive vs. Projected Capacitive Touch Screen | Click Here |
Infrared (IR) Touch Screen Overlay Advantages
What are touch screen overlays? What is IR touchscreen?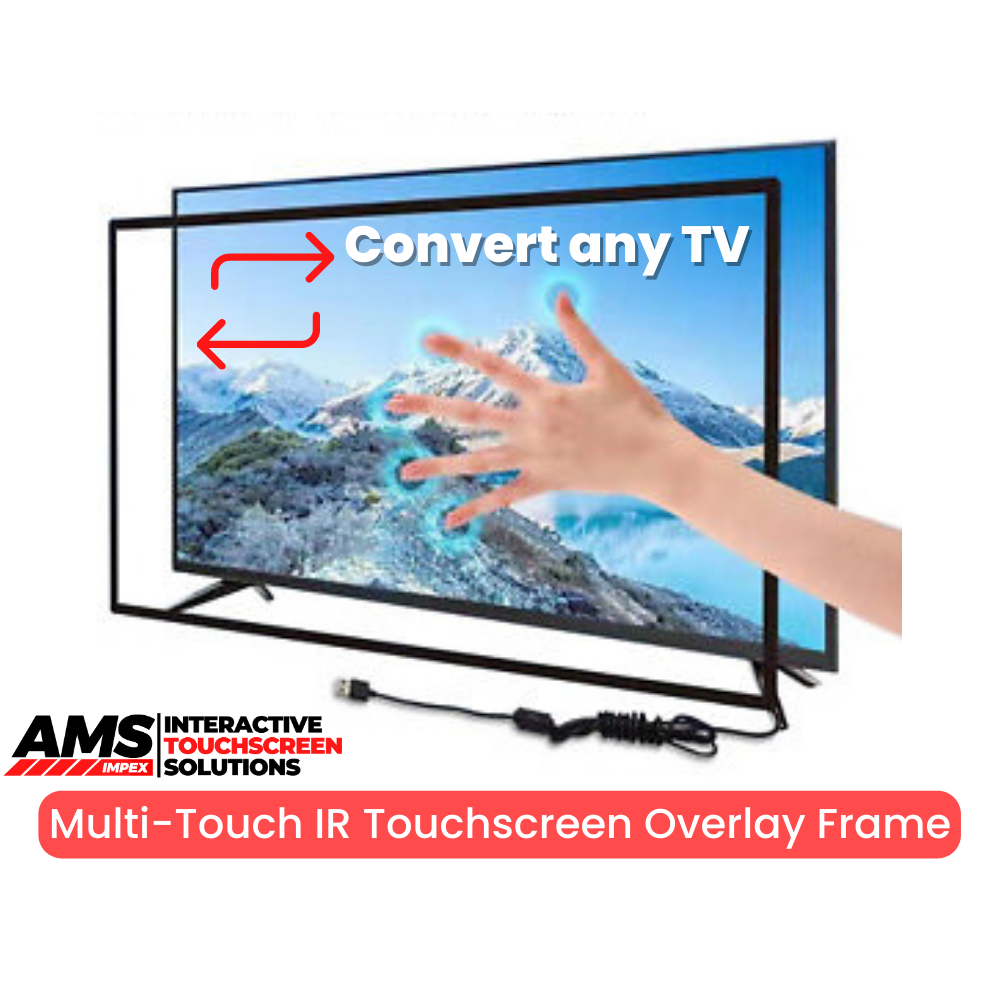 Affordable IR (Infrared) Touchscreen Conversion Frame Overlay to convert / retrofit /touch enable your large monitor display, tv & ultra-large video walls into a large interactive touch screen monitor.


Sizes: 21.5 inches, 24 inches, 27 inches, 32 inches, 43 inches, 55 inches, 65 inches, 75 inches, 84 inches, 98 inches, and custom design up to 300 inches.


It easily integrates with Samsung, LG, and Panasonic digital signage and commercial displays and can be deployed very quickly.


20 fingers Multi-Touch points with gesture support, 40 points optional


High Touch Resolution 4K x 4K and 32K x 32K – supports 4k / 5k displays


Slim metal frame 1.9mm


4-5mm toughened glass


New firmware with advanced diagnostics and touch algorithms


USB-HID plug & play support for the Windows family, Android, Linux


Touch monitors are available in all sizes, professionally integrated by us
What are the applications of infrared touch screen?
Ultra-large video walls


Education Classroom Teaching


Control panels for industrial use


CCTV Monitoring Panel


Conference & Meeting Rooms


Museum displays


Exhibitions and Trade Shows Display


Gaming Kiosks


Interactive Touch Screen Kiosks


Wayfinding Kiosks in Malls/Airports


Self-Ordering POS Kiosk


Broadcast Studios for News and Weather Map Navigation


Convert a TV into an Interactive large touch screen monitor

 Infrared Touch Screen FAQ

1. What is infrared (IR) touch screen technology?
An infrared touch screen technology uses IR emitters and receivers to create an invisible grid of light beams on the surface of a screen. When a user touches the screen, it interrupts the beams, and the receiver detects the touch point and sends the information to the computer.

2. What is the difference between an infrared (IR) touch screen monitor and a regular monitor?
An infrared touch screen monitor is a product that incorporates infrared touch screen technology to allow users to interact with the display. Unlike a regular monitor, it is designed to detect and respond to touch input, making it suitable for interactive applications.

3. Who is AMS Impex?
AMS Impex is a business in Mumbai, India, that specializes in the manufacture & supply of infrared touch screens and related interactive touch screen products. We are a reliable supplier and offer a wide range of options to meet the needs of different applications.

4. Can an infrared touch screen be used for a kiosk or interactive display?
Yes, an infrared touch screen is an ideal choice for interactive displays and kiosks. It provides reliable performance, with multi-touch support, and can withstand heavy use in public spaces.

5. Is AMS IMPEX a reliable manufacturer, distributor of infrared touch screens?
Yes, AMS IMPEX is in the touch screen business for the last 27 years and is a reliable manufacturer and distributor of infrared touch screens. It is important to look for a reputable company that offers quality products, good customer support, and reliable installation and repair services throughout the product's lifetime.

6. What type of systems can an infrared touch screen be integrated with?
An infrared touch screen can be integrated with various types of systems including PCs, industrial systems, medical devices, and POS peripherals. It offers a versatile interface that can be used for a wide range of applications.

7. What is a touch monitor display?
A touch display is a type of display that integrates a touch screen sensor and controller to allow users to interact with the display using multi-touch gestures. It can be used for various applications ranging from consumer electronics to industrial automation.

8. What is the difference between an infrared touch screen and a PCAP touch screen?
An infrared touch screen uses IR emitters and receivers to detect touch input, while a PCAP (projected capacitive) touch screen uses a grid of electrodes to detect touch input. PCAP touch screens offer better accuracy, and multi-touch support, and are more durable, more expensive and not scalable to ultra-large sizes as easily as infrared touch screens.
Conclusion
The IR touchscreen offers a quick touch response time and can recognise multitouch gestures smoothly without requiring a minimum touch pressure. It is resilient, scalable to extremely large sizes, cost-effective, easy and quick to incorporate, and has good overall stability.
This touchscreen can be simply operated by a finger, gloved hand stylus, pen marker, or any other comparable solid pointer item thanks to features like plug-and-play HID, driverless, auto-calibration, and Multi-Touch gesture functions like two-finger Zoom/Rotate/Swipe.
When the large size IR (infrared overlay frame) is properly paired with a display screen and enclosed within a structure like a kiosk cabinet or machine, it not only performs well but also has an attractive look.
Please contact us at +91 9820423111 for a quote, we have all sizes in stock today!